[rev_slider ibelieve2]
I Believe
I Believe is a concert work about the Holocaust. Using music and words, a story of hate, survival and hope is told from within the minds of the victims and perpetrators. It is a singular large scale work divided into 12 movements using the artistic forces of a symphony orchestra, large mixed chorus, children's chorus, ensembles, soloists and narrator. The artistic architecture is influenced by a host of sources all in service to capture the essence of a story that needs to be told, in a plea for awareness, understanding and peace.
The Holocaust encompasses simultaneously the most depraved human behaviour and the most sublime human behaviour; it is complex and simple; universal and particular. It is not to be forgotten nor should its import be diluted in any manner. The Holocaust is a telling commentary about humanity by humanity and thus it is important and necessary to share this most human story of despair and hope with our communities and especially our youth.
---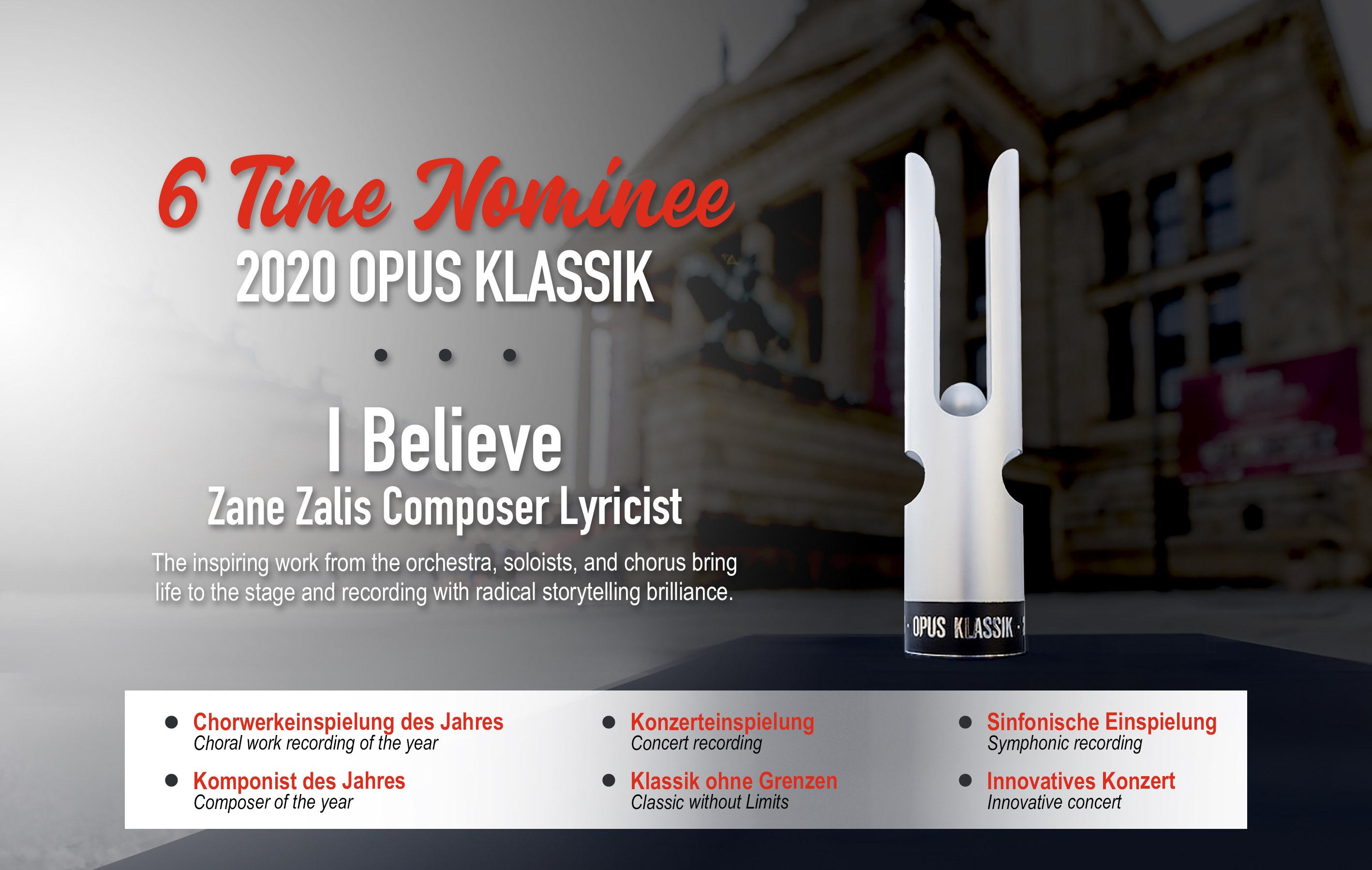 excerpts
arranged, produced, and lyrics by zane zalis
Chapters
---
---
testimonials and reviews
---
Canadian composer Zane Zalis – not himself Jewish, but a child of the Ukrainian Catholic traditions – has transformed heartbreaking stories from survivors into a powerful score with intensely moving lyrics. With a contemporary musical score, funneling the passion and directness of musical theater into the framework of a classical oratorio, I Believe tells a story both dark and triumphant in its 12 movements. Soloists include DCINY favorite Sara Jean Ford, currently reprising her role as Christine Daae in Broadway's The Phantom of the Opera; acclaimed tenor Alex Gemignani, a Drama Desk nominee for roles in LES MISERABLES and Sweeney Todd; and baritone Drew Gehling, well-known for his performances on Broadway in Jersey Boys and in the original revival cast for On A Clear Day You Can See Forever alongside Harry Connick, Jr.
For Zalis, I Believehas universal resonance – relating to many cases in which the human spirit has endured, despite intolerance and unspeakable crimes against humanity. A review following the 2011 world premiere said that the work "resonates with conviction and the need to communicate unimaginable horrors – and ultimately hope – in a contemporary idiom." (Winnipeg Free Press). Click here to view the full article.
EZRA GLINTER The Jerusalem Post 2009
---
I Believe encompasses not only a narrative from the beginning of the Holocaust through liberation but also a plea for awareness, understanding and peace wherever issues of human rights are concerned. The musical syntax is accessible, the choral writing rich and resourceful and the orchestral forces are used with skill. Mr. Zalis's gift for melody is a hallmark of I Believe, and a number of the movements can stand alone for purely memorable songwriting.
TRUDY SCHROEDER The Winnipeg Symphony Orchestra
Executive Director
---
I Believe was one of the most unique pieces I ever conducted. Through the music Zane Zalis was able to create a beautiful vehicle to communicate the tragic story of the holocaust to a 21st century audience.
ALEXANDER MICKELTHWATE Winnipeg Symphony Orchestra
Music Director / Conductor
---
I Believe is as unique as it is powerful – a memorial to a story that must be told. No doubt those new to the darkest events in history will feel its messages in Zalis' narrative and remember them long after the music stops.[/column]
JAMES MANISHEN The Winnipeg Free Press
Classical Music Reporter
---
I Believe touches your heart, helps not to forget and demonstrates the importance of understanding, tolerance and reconciliation. There is no better music for this.
WERNER BRANDSTETTER
Ambassador of Austria to Canada
---
I Believe is an amazingly uplifting and spiritual musical experience… it is a must see for all people of good will.
EPHRAIM KAYE The International School for Holocaust Studies
Yad Vashem
---
In word, in resonant melody and chord, I Believe speaks to the depths of our humanity. Building on the particular experience of the Holocaust genocide, this oratorio explores such darkness as it is a part of the whole human condition. But then I Believe sings us forward to a future of hope. This oratorio is an essential experience for all of us.
REV DR. KAREN HAMILTON The Canadian Coucil of Churches
General Secretary
---
You have to hear it to believe it. On the surface, there's no reason why
I Believe
, a Holocaust-themed oratorio by Canadian composer Zane Zalis, should work. First, there's the question of the music. For five years, Zalis has been working on
I Believe
, which will be premiered by the Winnipeg Symphony Orchestra on May 21. Though the piece is scored for a full orchestra and a chorus of almost 200 voices, its style is often closer to musical theater than it is to contemporary classical repertoire. "For me, it is quite an intense, strange project. I don't know of anything like it," said Alexander Mickelthwate, the conductor and music director of the WSO. In addition, the Holocaust is about the farthest thing from Zalis's own life experience. Born and raised in Winnipeg, Manitoba, Zalis comes from a strictly Ukrainian Catholic background. "I was raised a Ukrainian boy, with Baba and Gigi in the house, I played the accordion, went to Catholic school. I was raised in traditional ways," he told 
The Jerusalem Post
. But despite superficial indications to the contrary, Holocaust survivors who have heard excerpts from the work are unanimous in their verdict: Zalis gets it. "He's in there, in a way. I give him credit that he got close enough to the barbed wire that he could hear the children. In his mind, he's there physically," said Arnold Frieman, a Winnipeg Holocaust survivor who was imprisoned in a slave labor camp near the Hungarian-Romanian border during the Second World War. Frieman first heard a portion of
I Believe
 during a community performance by the WSO at Miles Macdonell Collegiate, where Zalis heads the school's acclaimed music production program. After the performance, Frieman approached Zalis, overcome by emotion. "I have read many books on the Holocaust. And as you read those accounts of what they did to us physically and spiritually, it does impact you. But the music and the lyrics give it life. It takes you back," he said. "Even non-survivors can get a reasonably good feeling as to the fear. The fear was always there. This feeling that you're nobody, you're doomed, you're finished. You can feel it, both from the music and the lyrics."
Zalis began working on I Believe in 2004 when he was commissioned to write an overture for the inauguration of the Arthur Mauro Centre for Peace and Justice at the University of Manitoba. "What do you write for a center for peace and justice?" he wondered. After reading up on the history of genocide, he realized that for him, there was no subject more moving, challenging or relevant than the Holocaust. Following the initial 12-minute performance of the overture, he came swiftly to another conclusion: He would expand the short work into a concert-length piece. Years of reading, writing, and interviewing Holocaust survivors followed. As he wrote I Believe, individual movements were performed at community and educational events, including a presentation he made in the summer of 2008 at Yad Vashem. On each occasion he was confronted by the same reaction: People were moved to tears and wondered how he did it. "This one lady came up who had been in Auschwitz. She said to me, 'I didn't think that you would get to me because I've seen so much. But you hit the nail on the head,'" Zalis recalled. "It has been a mystery for many, many people. How did I get the pulse of whatever it was? I don't know. Why fish around? I don't have an answer," he said. Though I Believe is unquestionably about the Holocaust, its lyrics shy away from explicit references, giving the piece a universal resonance. The words Jew and Nazi, for example, are never used. And despite some similarities to musical theater, its story is mostly conceptual. "You know Tevye and the Fiddler on the Roof? It's not like that. It's about inside the mind of a survivor. It's written for feeling the Holocaust," Zalis said. "I have been trying to share and walk in those shoes so I can understand. And that's how come I don't think a history book does it. And that's how come I don't think facts and dates and numbers do it," he said. "Do you know how it feels to lose everyone? Do you know what alone means? Do you know what it means to turn your back on a God that you believed in since your childhood and feel empty? Now you start to understand the Holocaust. That's my take. That's what's in the music." Though I Believe is envisioned as a full-scale symphonic work, it is also designed so that it can be used in smaller settings, such as classrooms. Following the premiere, a workshop based on I Believe will be held for Winnipeg teachers. Ephraim Kaye, the director of international seminars at the school for international studies at Yad Vashem, will be traveling to Winnipeg especially to attend. Other plans are also in the works to extend I Believe beyond its initial performance. For now though, it's the premiere that matters most. Approximately 5,000 people have already seen portions of I Believe in one form or another, but this is the first time it will be performed in its entirety with a full orchestral line-up. Visiting dignitaries and tour groups are coming to Winnipeg from as far away as Austria and Israel, and tickets sold out weeks ago. It's the culmination, and perhaps the new beginning, of an intense emotional and artistic odyssey. In the end, Zalis may yet make believers of us all.
---
This unique Winnipeg Symphony Orchestra recording of Winnipeg composer/lyricist Zane Zalis' Holocaust oratorio resonates with conviction and the need to communicate unimaginable horrors — and ultimately hope — in a contemporary idiom. The disc includes all texts and notes about the production that was five years in the making, with the first-rate ensemble led by WSO's Alexander Mickelthwate.
Live performances don't always translate well to a recording, but this one successfully allows Zalis's compelling theatricality to emerge throughout the disc's 12 tracks. The children's chorus singing "fly away" in The Children tugs at your heartstrings while soloists Kelsey Cowie and Marc Devigne's gutsy vocals add emotional gravitas to What Now? A suspenseful Death March includes an ominous humming refrain as the men transform into a chorus of lost souls.
Last May's world premiere sold out. Those who couldn't get a ticket have another chance to check out this ever-timely work that speaks to all generations.